Take The Leap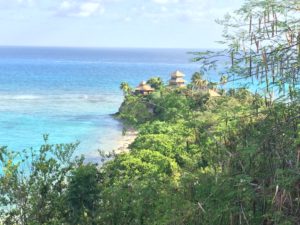 Four or five months ago, I received an amazingly intriguing email. It said I had been recommended to attend a retreat in the Caribbean…on a private island. There would be thirty invited guests from around the world, each and every one a successful entrepreneur working to change the world for the better. Was I interested?
Was I interested? I was already dragging my suitcase out of the closet.
Knowing how impulsive I can be about such wonderful opportunities, I decided to take a day or two to think about it before responding. I read the brief email a dozen times while considering. It seemed too good to be true. But each time I looked, it said the same thing: "you are invited."
So I sent off my reply: I would indeed be interested.
Over the next couple of months the folks on the island and I traded several emails and I completed a long, entertaining, telephone interview. A few days after the interview, my official invitation arrived. I rushed off to fill the suitcase that had been sitting in the middle of my bedroom floor.
But first…while waiting to board my initial flight from Philadelphia I got talking with a fellow traveler. We ended up exchanging business cards after he invited me to visit him in San Juan where he is CEO of a global financial services company. It seems he thinks there are some things we can do together. What a good sign of things to come…
First stop: Scrub Island, where I spent the night at the lovely Scrub Island Resort. Scrub Island turned out to be two islands with a small isthmus between them: Little Scrub Island and Big Scrub Island. Clever. Although I almost died from the effort, I managed to walk all the way around both very hilly islands and reach the highest point of each.
The next day, a boat arrived to take me to the retreat.
Over the next week, along with my fellow attendees from around the world, I listened to a few talks about improving business, entrepreneurship, ocean issues, and social impact, visited with and offered advice to a number of local entrepreneurs from the island owner's business incubator, and swapped many stories pertaining to our numerous mutual interests.
And lest I forget, we explored the island, with its unusual wildlife and beautiful jungle, suffered through spectacular food and wine, enjoyed amazing service from an exceptional staff, had a few parties, and indulged in a variety of water sports. And as on Scrub, I walked around the entire island and up to the summit of the highest point. I even managed to re-activate the Ocean Fund–dedicated to helping the ocean stave off the indignities it faces–whose creation I had facilitated. And then there was the spa…
I was reluctant to leave, as you can surely imagine, but I was bringing with me strong new business connections and friendships and several potential opportunities. And it looks like I'll be packing my bags before too long for Australia, Denmark, Hong Kong, Singapore, Brazil, and a few other places to which my new friends invited me.
Perhaps most amazing of all, I received an invitation to witness the take-off of a rocket that will release a satellite one of the attendees is planning to launch next year.
As regular readers know, in my missives I often encourage you to pay attention to what's going on around you and always be open to new people and new experiences. Including starting conversations with people you run into randomly. Certainly few of you would have turned down the invitation I was fortunate to receive, but consider the other, almost daily opportunities that come your way. The payoff many not be as wonderful as a week at a remote island with fascinating people but often you'll find the result will please you immensely.
Take the leap.